For many years, I worked for Lauren Rottet who's known for her signature white interiors. I learned early on that white wasn't just a white. They're super complex paint colors that can make your home feel crisp, inviting and vibrant or dingy and dull. And then there are the cold and clinical whites. Brrrr!
With thousands of shades, choosing the right white paint color is very challenging. From the trim, walls, cabinets, and doors, it covers a lot of surfaces, so you don't want to get it wrong. That's why Lauren had her go-to white paints. The ones that stood the test of time and were foolproof.
In fact: All designers have their tried-and-true white paint colors.
They go back to them time and time again because they never disappoint.  Through my experience, I discovered the perfect shades, the ones that I use and other designers use.  
Whether you have a modern or traditional interior, these beautiful shades will make your home feel polished, luxurious and create a long-lasting impression. Here are the 12 BEST white paint colors to use with confidence.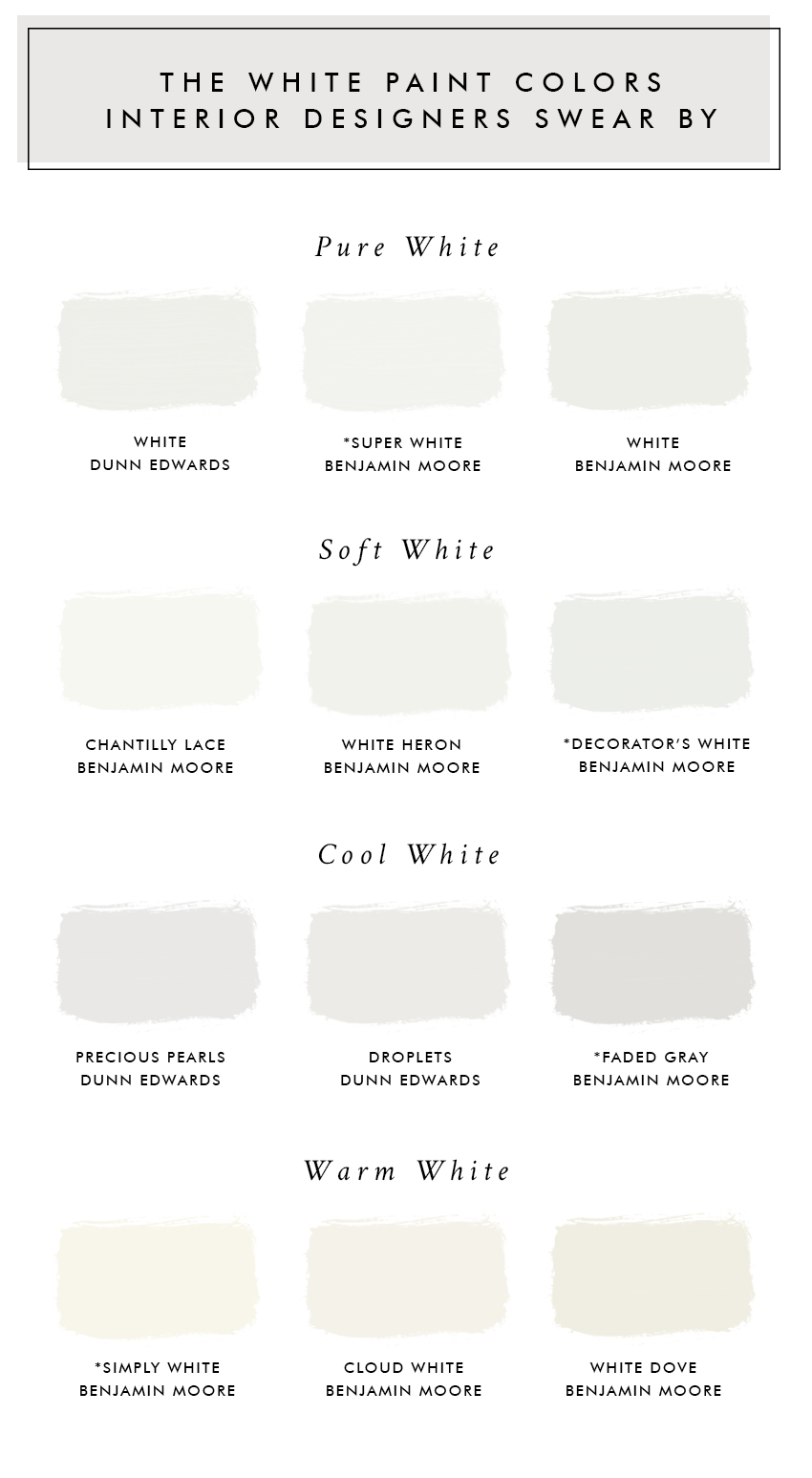 FREE BONUS #1: COLOR GUIDE
Get your copy of the 48 BEST NEUTRAL PAINT COLORS
all in one place + bonus content! 
Pure White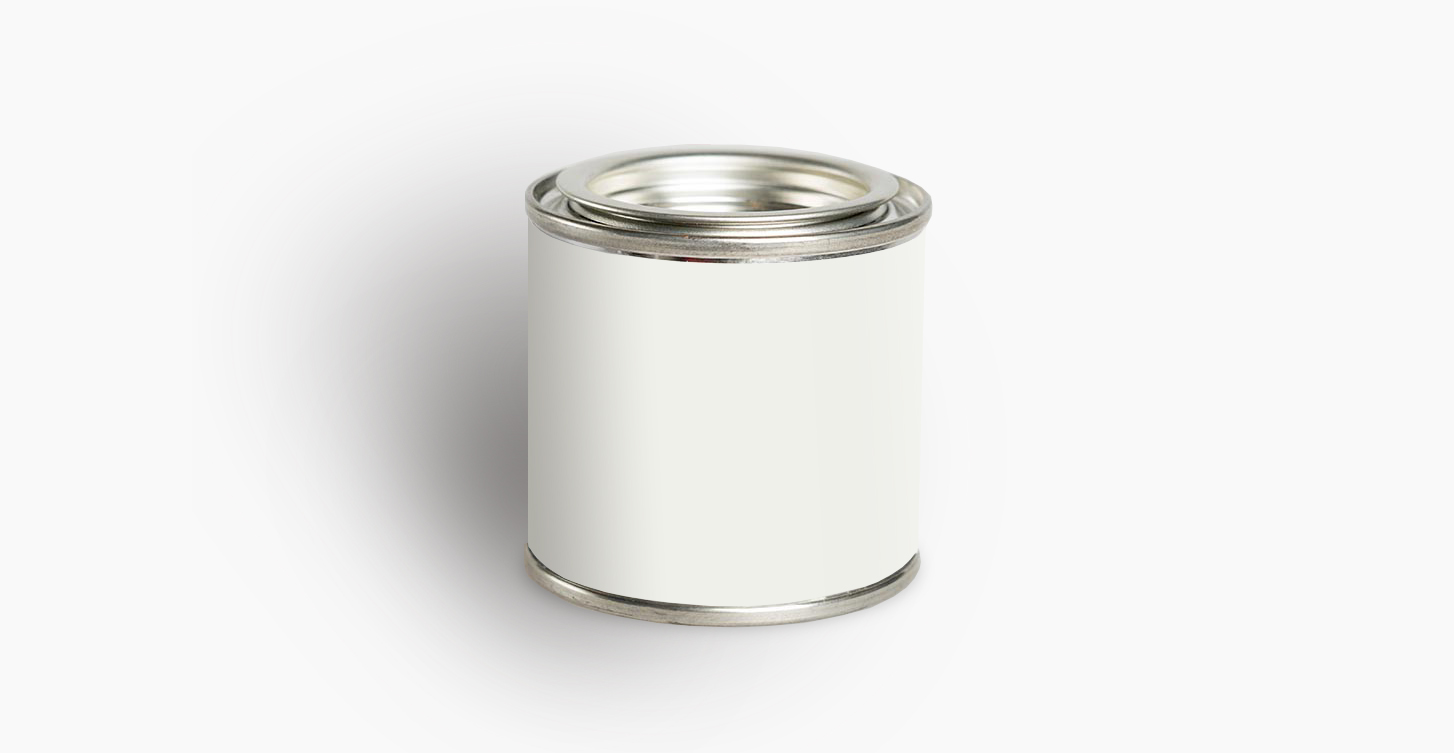 Bright, clean and crisp, this is the perfect white paint color from walls, ceilings to cabinets, trim and doors. It keeps room light, fresh and airy. It's a versatile paint that works well with so many other colors. Amber Lewis says, "In my opinion the best 'white' for trim around!"
Best use: Walls, cabinets, trims, ceilings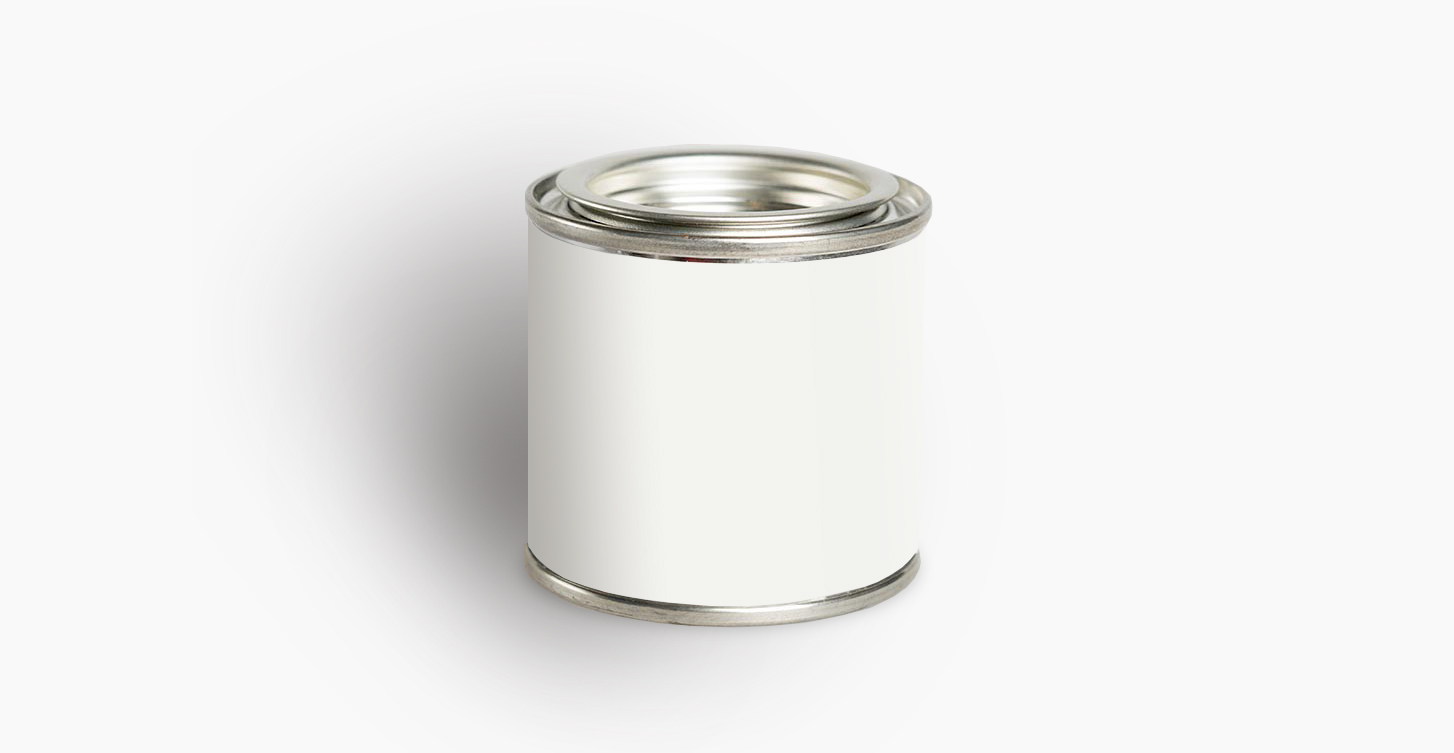 TOP PICK
Crisp and bright, this paint color is the purest of whites with absolutely no other color pigmentation. When looking to give dingy, off-white walls new life, look no further. This is the go-to bright and clean white for any room. It instantly bounces light around the room and gives it life.
It's also a favorite of professionals for trim because of its ability to make the paint color really pop. I highly recommend this paint for ceilings to lighten them and make them feel taller.
Best use: Walls, cabinets, trims, ceilings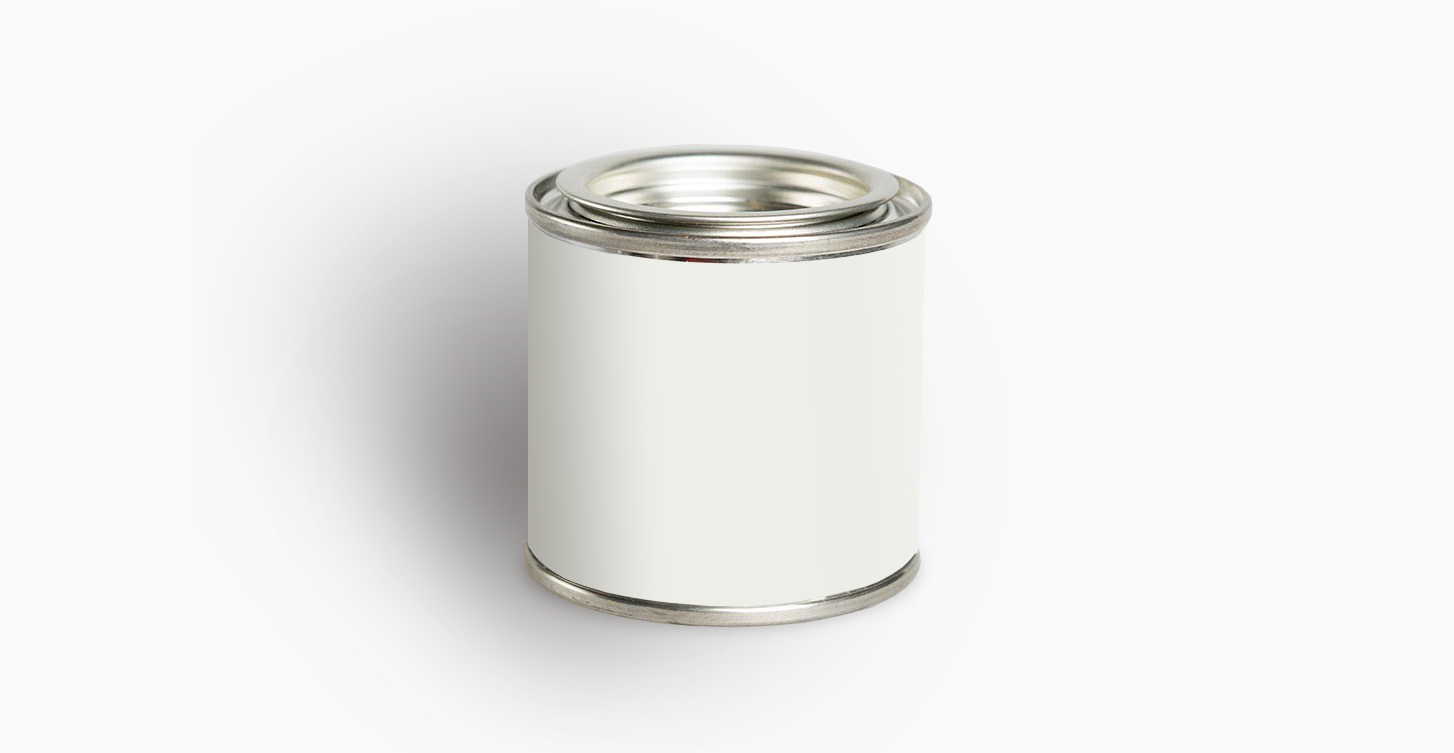 A crisp, all-purpose white, this classic shade works well in any space. It strikes the right balance of warm and cool. Especially a favorite for trim, cabinets, and walls because of its purity and brightness. Unfiltered by tint, this color is ideal for framing most any paint color.  
Best use:  Walls, cabinets, trims, ceilings
Soft White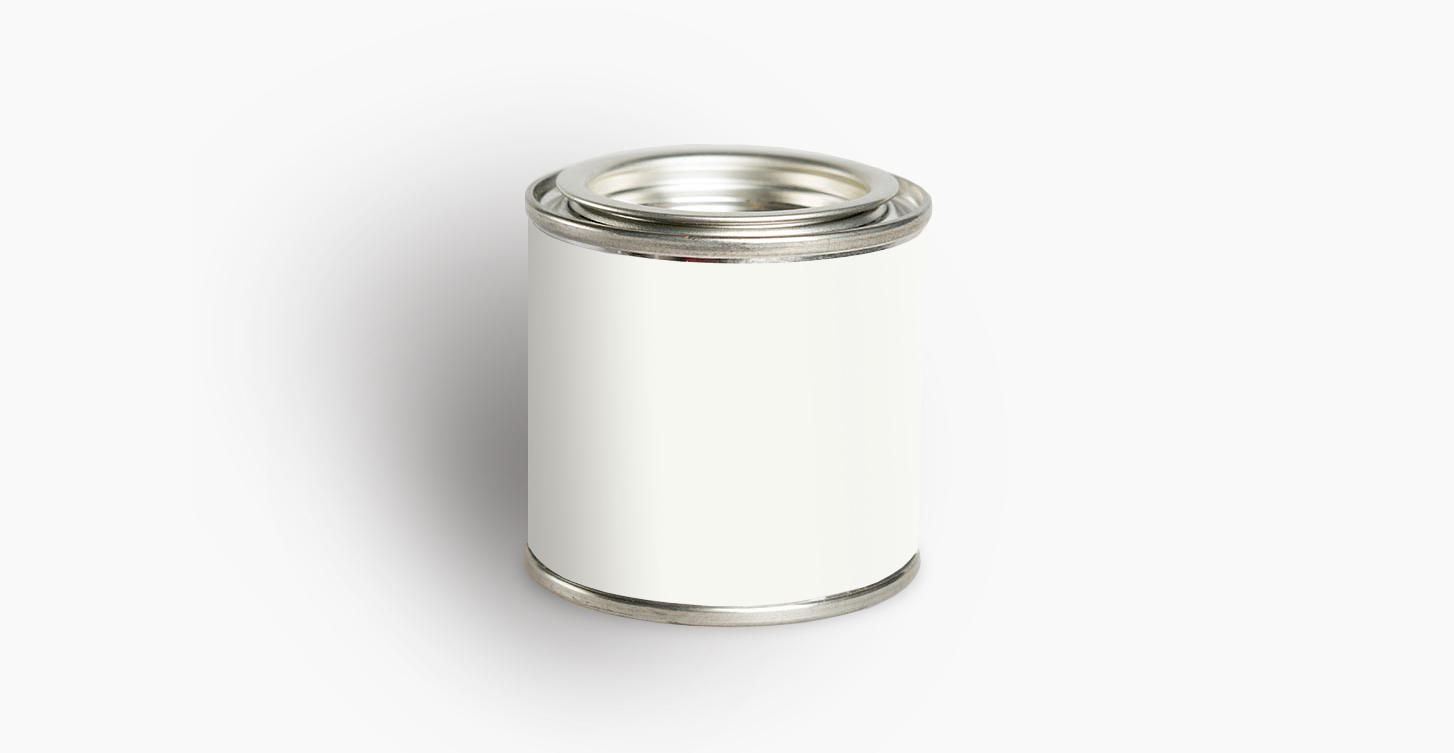 Ideal for modern homes, this soft white has the slightest hint of blue undertones. This soft off-white makes it more dimensional than a pure white.  As Shea McGee of Studio McGee comments, "This shade is my go-to crisp white. It provides the perfect backdrop for layering styles and textures."
Chantilly Lace is a lovely alternative to pure white for trim and cabinets. When used as a trim, the hint of coolness may appear off against light wall colors or in more traditional homes.
Best use:  Walls, cabinets, trims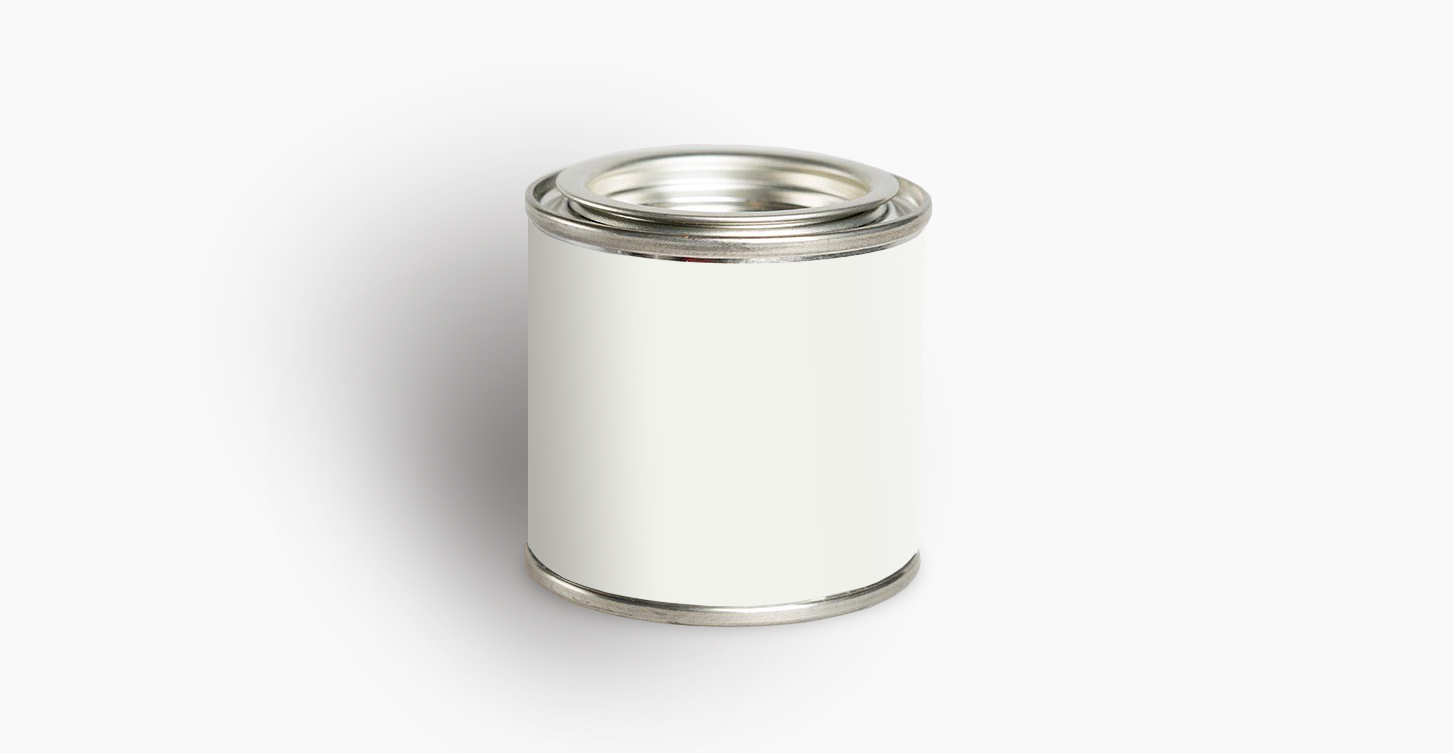 Fresh, soft and tranquil with a touch of warmth to it. It's a perfect off-white that feels clean and reads as a crisp, pure white but not as stark. This beautiful soft white provides balance and visual relief to the most complex color schemes. Use it on the cabinets, doors or trim or on the walls for a versatile canvas for your room.
Best use: Walls, cabinets, trims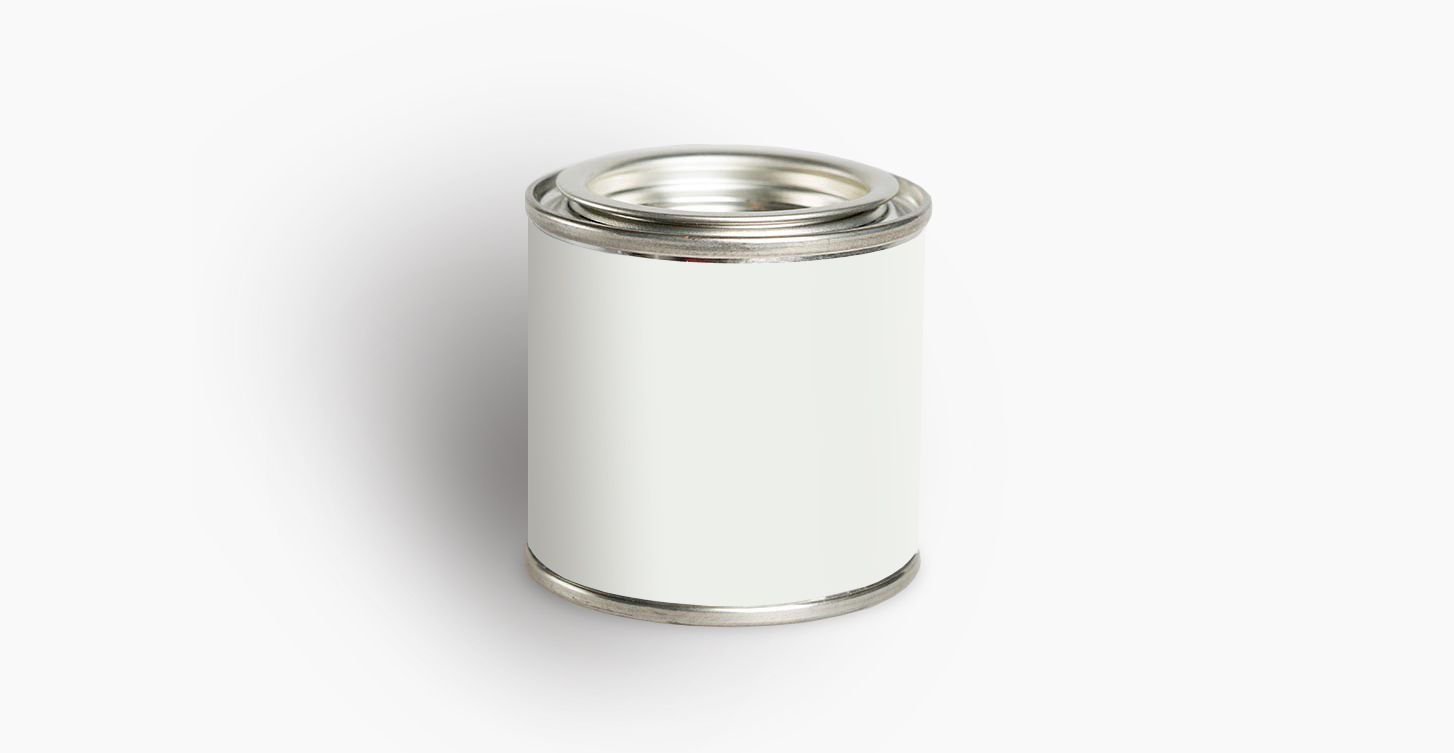 TOP PICK
Like its name says, this white paint color is an absolute favorite of many decorators because it's so versatile. Decorator's White is a softer version of brighter whites. Not too cold and not too creamy, making it a beautiful modern white.
It's lovely, clean and simple with the slightest hint of gray without any color undertones, so it combines well with gray paint. If you want a tried-and-true modern white, this is for you.
Best use: Walls, cabinets, trims
Cool White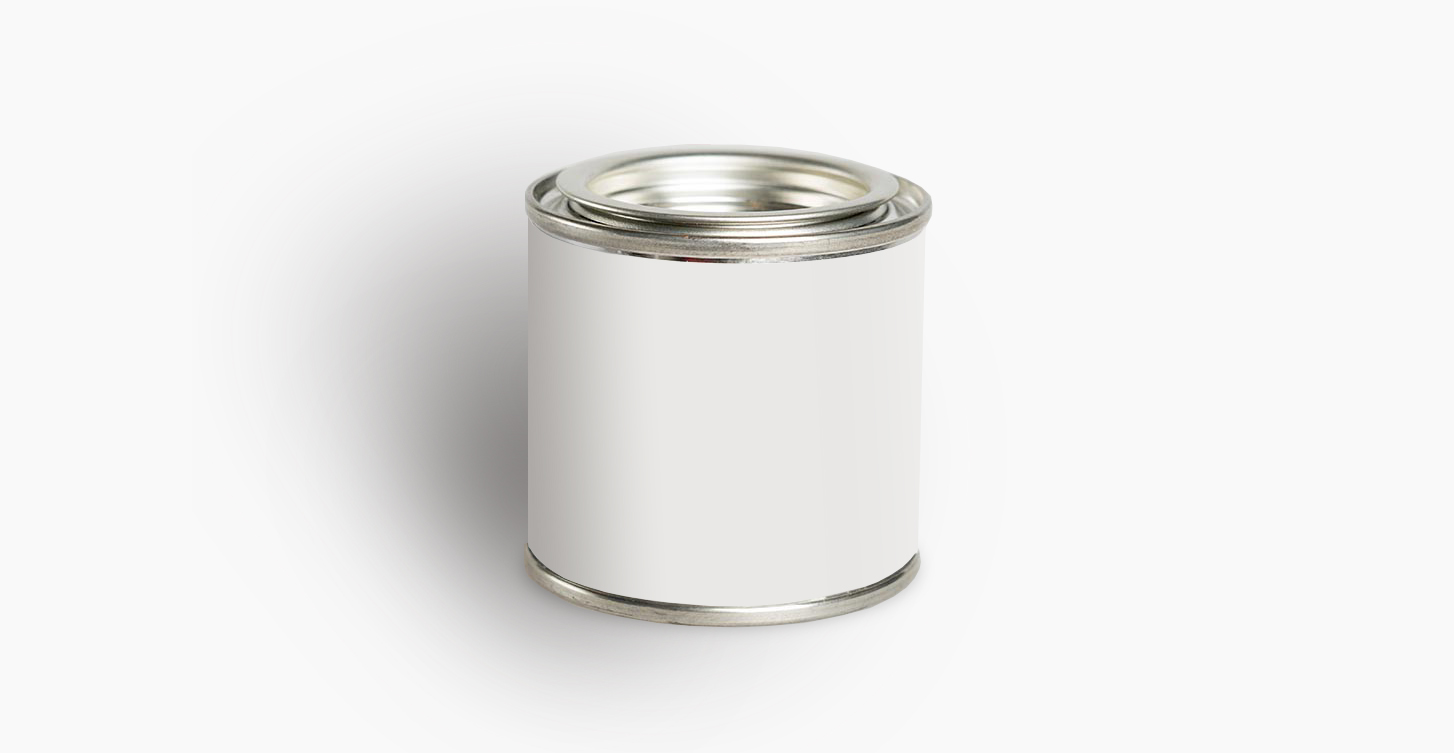 A favorite paint color of Designer Nate Berkus, this fresh white is easy to love. "I love working with this shade of white. It works so well as a backdrop in almost any room," says Berkus. "It's not distracting—it's the opposite. It immediately makes a room feel calm and will pair beautifully with whatever furniture and objects you choose to live with."
Best use:  Walls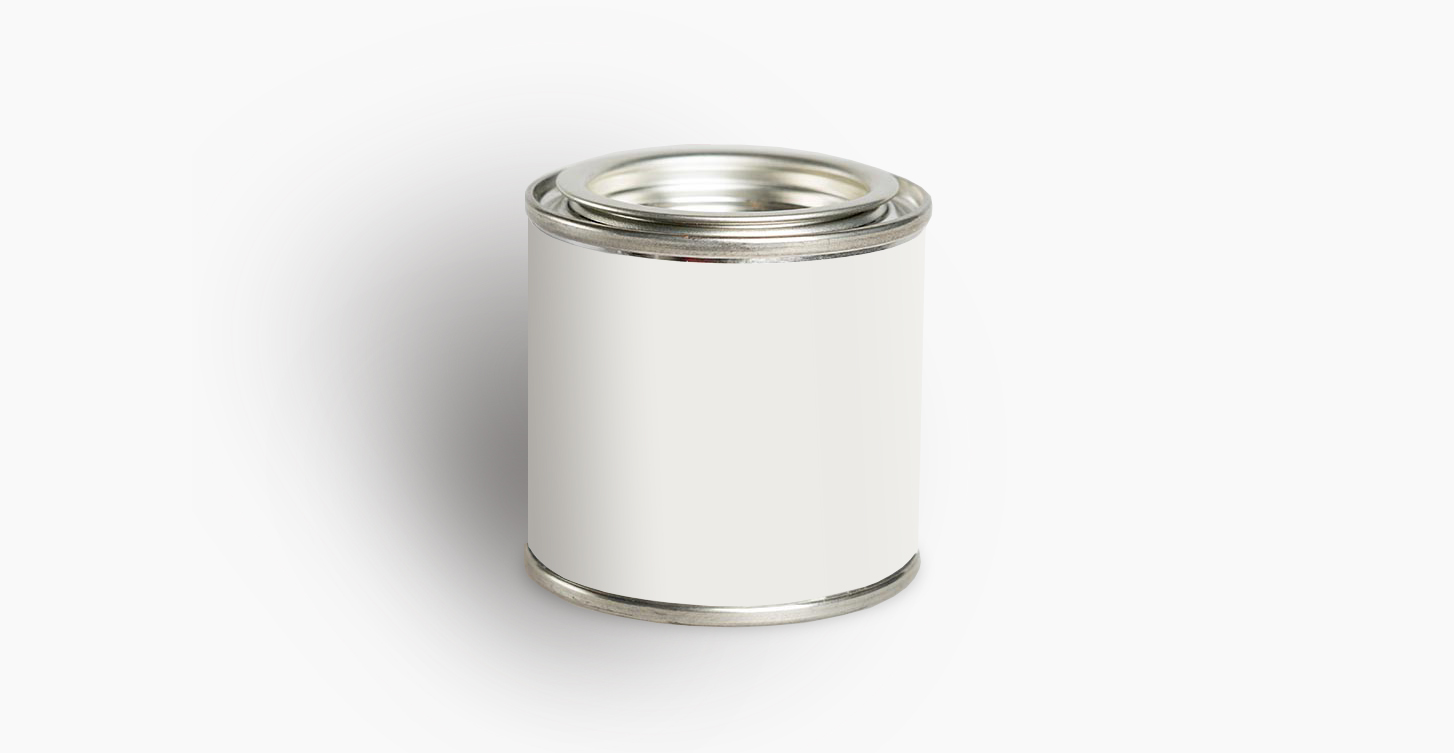 One of the top Dunn Edwards colors, Droplets is crisp, cool and bright white paint color. Still, in the white family, it has a hint of gray undertones making it ideal as a wall color paired with white trim.
Designer Amber Lewis loves this color and elaborates, "It has the slightest hint of gray. It's perfect if you want a little contrast without painting your room gray." Use this paint if you want a clean, modern look with a pale color.
Best use: Walls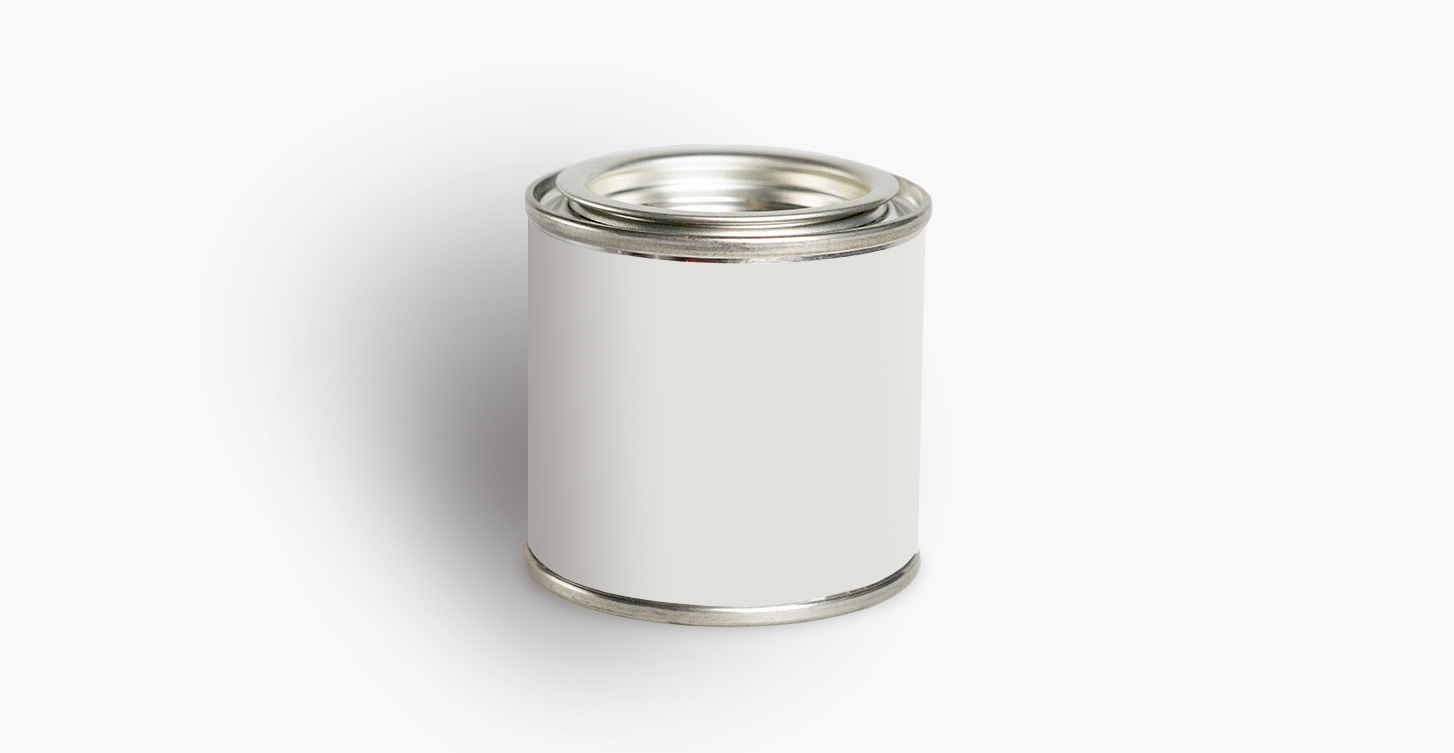 TOP PICK
Not warm and not too cool, this neutral hue is modern and inviting. It's a slightly darker version of Droplets, above. A recommend color of Amber Interiors, Amber Lewis explains, "The ultimate neutral gray! Perfect if you want a bolder contrast of white trim and gray walls."
Best use: Walls
Warm White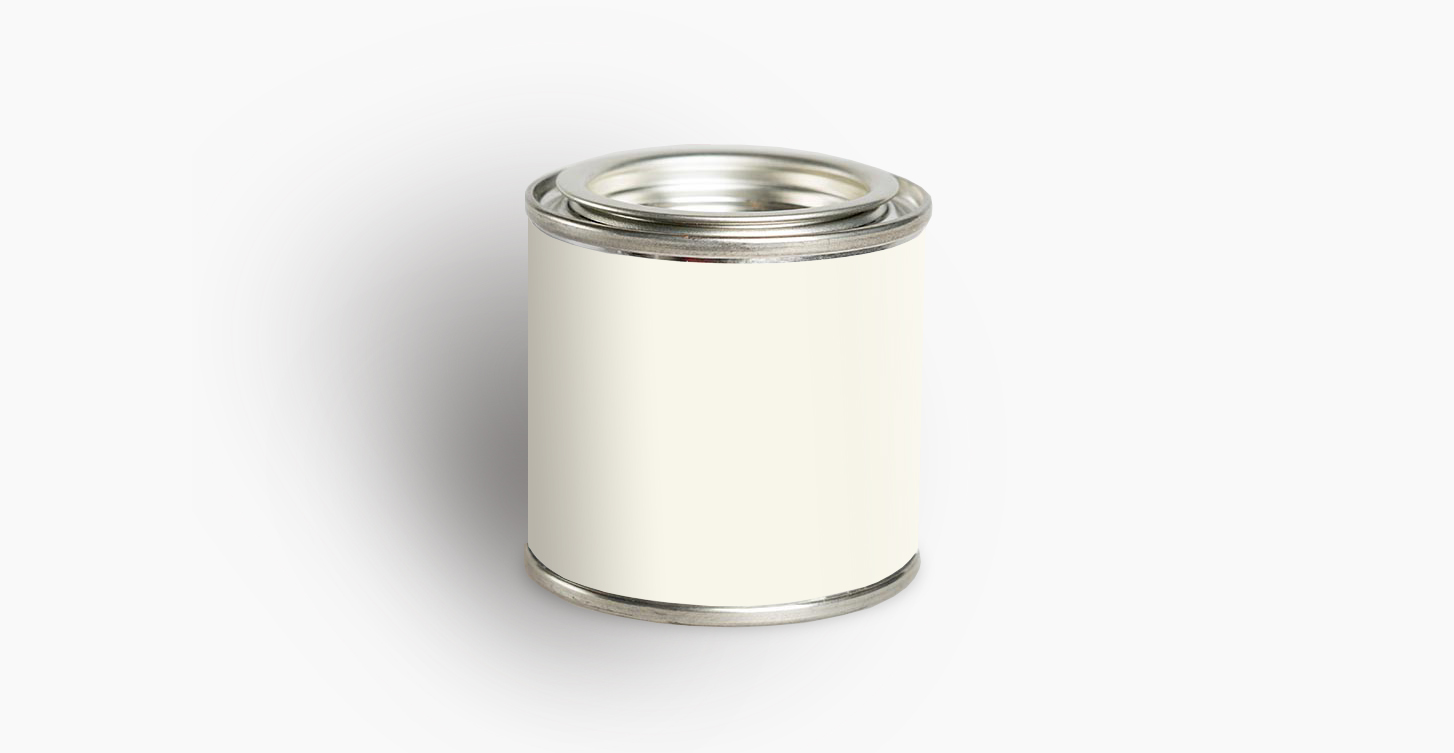 TOP PICK
The perfect soft warm white, Benjamin Moore named 'Simply White' its 2016 color of the year. Katie Hodges swears by this color. "It's clean and crisp, without feeling sterile," she says. "My favorite white of all time—it never disappoints!"
It's a fresh, timeless, off-white. It feels white without being stark because of it's warm, subtle yellow undertones which give it depth.  It's a lot brighter than White Dove, above. 
Simply White looks excellent on cabinets and is fantastic in any light. As a trim, it's a very clean white. But it might be too bright for darker colors or have too much yellow undertone for cool colored walls.
Best use: Walls, cabinets, trims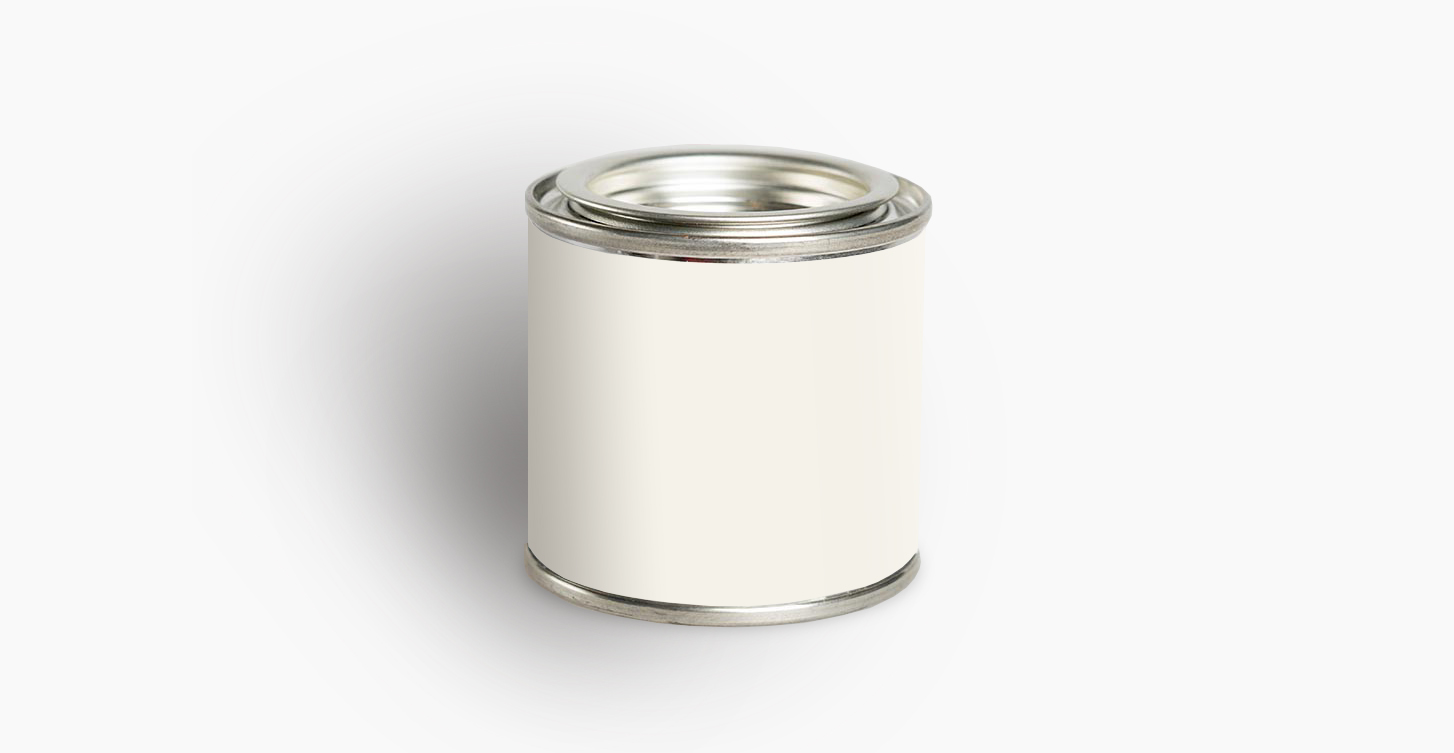 Lightweight and luminous, this soft shade of white is trendy. It's classic, timeless and inviting with soft, creamy undertones. It's a favorite choice for a traditional white trim, but I prefer it on the walls.
Ideally paired with warm paint colors unless you want to see a contrast between a cool wall paint and the warm undertones of the trim. When it comes to ceilings, I recommend something lighter and brighter.
Best use: Walls, trim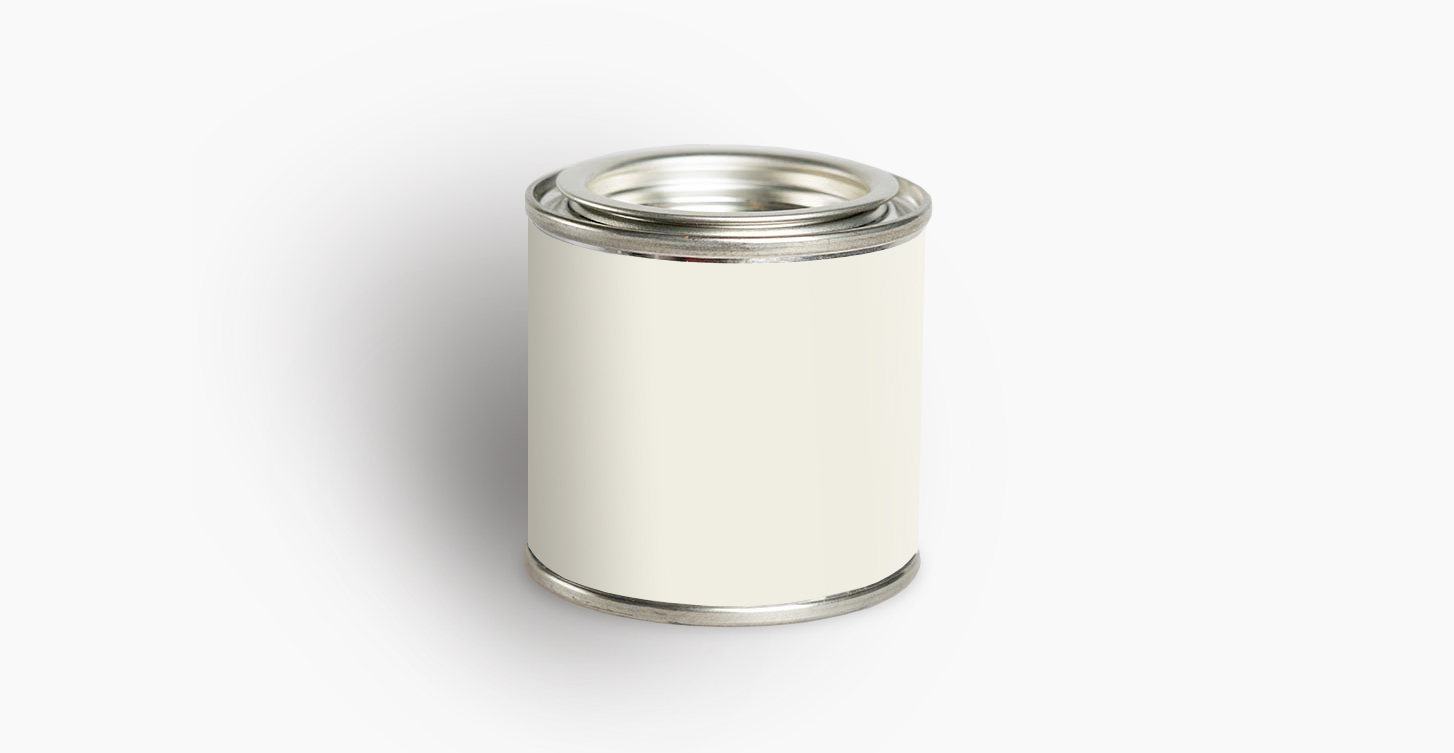 Clean, crisp and fresh this white paint color is classic and all-purpose. It works with any decorating style and is a favorite for moldings and trim.
With very slight yellow undertones, it adds depth and can make a room feel inviting and luminous especially larger rooms. It does have a slight gray tone and in places without much natural light can feel a bit dreary.
Best use: Walls, cabinets, trim
FREE BONUS #2: PAINT CHEATSHEET
Take the stress out of painting with the ultimate paint cheatsheet from selecting your color scheme to painting your walls like a pro. And keep it simple, guaranteed!
After you've read this post, tell me: What white paint color is in your home? Are there any other shades that belong on this list?
Share it in the comments below. Your insight and ideas may eliminate someone's indecision and help them pick their paint color.
If you have friends, family or colleagues who are looking for a new paint color share this post with the links below.