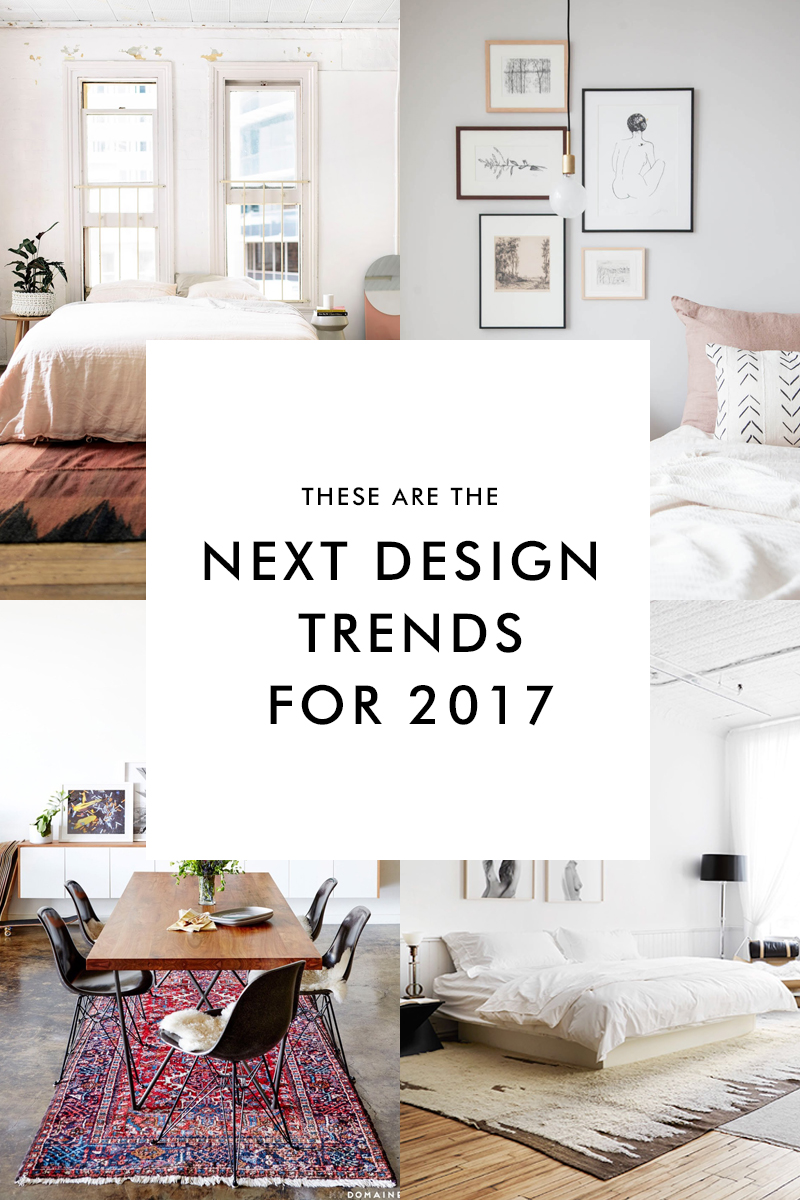 Interior design trends this season are all about effortless elegance, natural materials, added dimension & texture. From layered rugs to moody interiors, here is my roundup of the design trends for 2017. 
Layered Rugs


Rug lovers, rejoice! Nothing brings a room together like a well-placed rug and this year we're doubling down. From leather to woven, neutral to bright, we love the cozy, plush look that layered rugs bring when creating an enviable décor. Create this effortless look with contrasting rugs in texture, color & size.
Decorating With Plants
 

You've seen them everywhere from artwork to styled interiors, and it's no wonder, plants instantly liven up a room. Bring the outdoors in. Group plants together, hang them or opt for a minimal plant stand for added elegance.
If you're not sure which plants to buy: cacti, philodendron plants, money plants & eucalyptus are my favorites.
Swing-Arm Wall Lights 


Have you noticed that swing-arm wall lights are showing up everywhere? Another trend that
is expected
to hit the market hard this year.
And, why not? It's an elegant and versatile way to brighten a room and a simple way to give a timeless space a more contemporary look.
Modern Bohemian
 

Have you grown tired of midcentury modern? Update this classic look with a refined eclectic style that is easy to pull off. Think traditional rugs, Moroccan details, southwestern textiles, and macrame paired with modern details. Details like polished concrete, clean edges and of course, midcentury furniture. So many wonderful possibilities!
Displayed Wardrobes 
 

Fashion trendsetter's photos are the stuff Instagram dreams are made of. They know how to display their daily lives in style. Showcase your wardrobe for an instant picture-perfect space.  Plus it's a beautiful solution for a small space. Don't forget to choose unique hangers to complete the look.
Moody Interiors 
 

Dark paint creates a dramatic and sexy contrast to the stark white interiors of last year. Along with moody colors, tone-on-tone is trending this year. Be bold with dark rich furnishings or choose muted textiles like this elegant bedroom for a harmonious balance.
Floating Bedside Tables
 
Bring together a minimalist room with a floating bedside table. Another obsession-worthy small space solution! An elegant way to display your bedside materials that appears custom but without the fuss. Watch out for messy wires and opt for a wall mounted light instead, as this trend is all about the details.
Mixed & Matched Chairs
 

This top trend takes a bit of an effort to look polished, but it is worth it! Mixing chairs work especially well with the 'Power of 3'. Think about mixing three different chairs, colors, or sizes to pull this off with designer ease. Not sold on the idea, pair a timeless bench with your favorite seats instead.
Statement Tiles
 
I love concrete floors and marble walls, but I'm currently obsessing over the chic statement tiles that I've seen showing up in bathrooms and kitchens. Nothing glams up a utilitarian room quite like the instant texture and beauty of a well-placed pattern. Make your bathroom floor or kitchen backsplash center stage by adding a bold tile and keeping the other elements understated.
Natural Wicker
 

Brighten up your abode with this artisanal material. Wicker delivers maximum impact without the expense of wood while still creating the much-coveted warmth. Light fixtures, designer chairs, and wall décor are just a few furnishings in which this trend shows up in unexpected places to create a modern feel.
Salon Gallery Walls
 

Gone are the days of matching frames and symmetrical galleries. Personalized asymmetrical galleries tops our list of trends. Showcase your personal art collection by mixing frames in various sizes and with differing mounting techniques. Consider a monochromatic scheme to strike the right balance for this chic and effortless statement.
Floral Wallpaper
 
Tired of all-white walls? Create a focal point in a monumental way with wallpaper. A floral image or pattern paired with modern furnishings set this trend apart with swoon-worthy style. Don't worry renters, get in on this enviable trend with removable wallpaper.
After you've read this post, tell me: What are your predictions for the next design trends?
Share it in the comments below. Your ideas may inspire someone's next decorating project.
If you have friends, family or colleagues who are looking for the latest trends, share this post with the links below.